It's impossible to have come of age in 70's Berkeley without having been affected by the political issues of those volatile times. We young people truly believed that we could change the world. I had already experienced the affects of racial injustice growing up in the Crenshaw District of Los Angeles. I was in middle school when Leonard Deadwyler was murdered by policeman Jerold M. Bova, after being stopped for speeding to get his pregnant wife to the hospital. This horrendous tragedy led to the so-called Watts Riots, an outpouring of pain and rage precipated by intense feelings of frustration and helplessness. Tanks rode down Crenshaw Blvd and we could see sharpshooters on the roofs of our neighborhood stores. I was a UC Berkeley student during the last anti-Viet Nam war demonstrations, the fight for a Third World College, for affirmative action and tenure for deserving black professors and during the early days of environmental and gay rights consciousness. I stuffed envelopes (remember those?) for activist candidates, made phone calls and created flyers to get the word out. Many of my concerns were present in the art I made.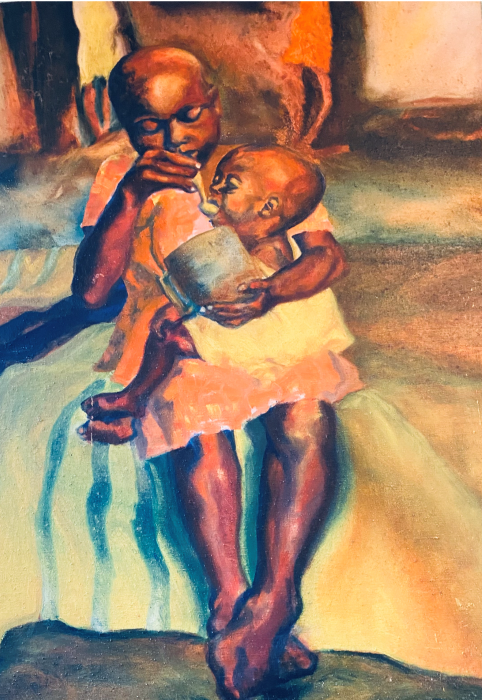 Untitled
This is my very first oil painting. It was inspired by a black & white photo of two Biafran children in a prisoner of war camp. Somewhere around 2 million Biafrans – many of them women and children – were displaced, starved to death and murdered by the Nigerian Army which fought against Biafran independence in 1967-1970.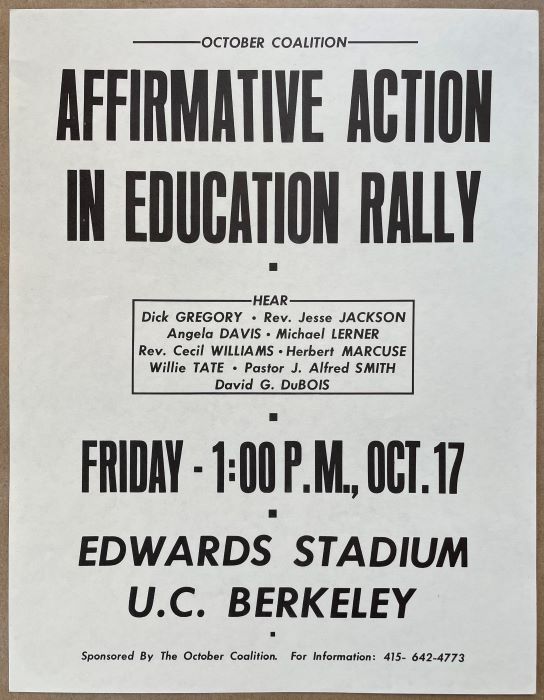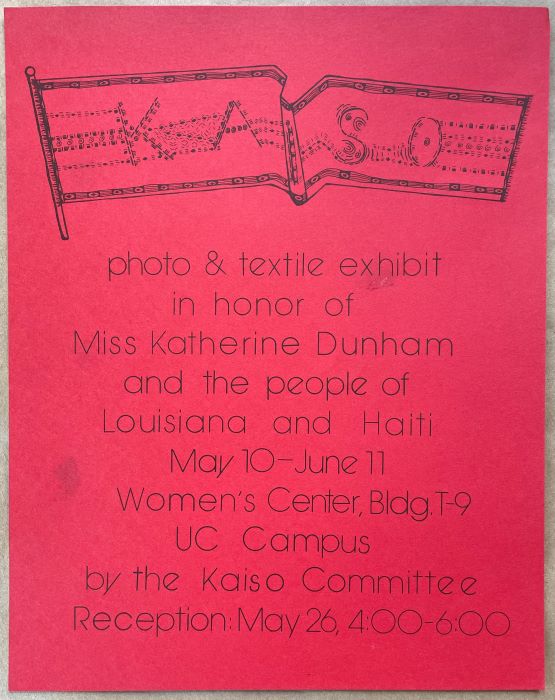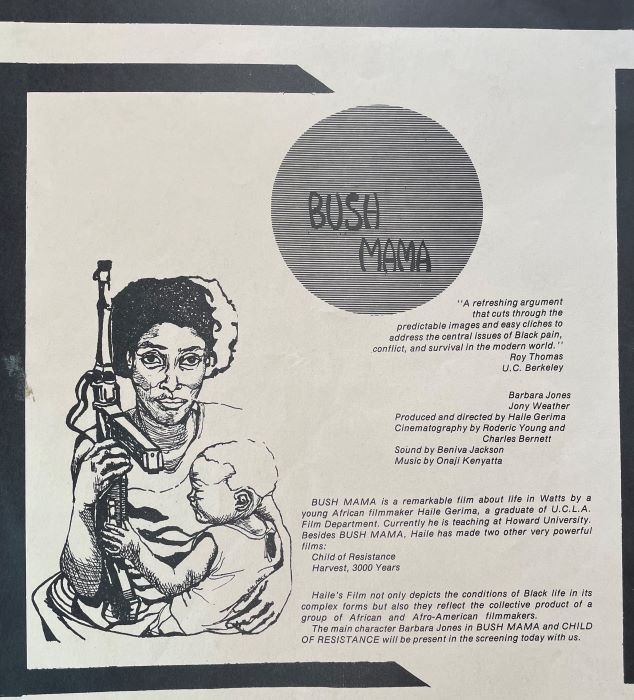 I co-founded the October Coalition with Dr. Harry Edwards and fellow student, Larry Bellinger. This is one of the political flyers I created for a campus event featuring some of the most important voices of the times.
Katherine Dunham brought Afro-Haitian dance to the United States. It was an honor to meet her and to create this flyer.
I spent my junior year at UCLA where I met many young filmmakers. One of them was Haile Gerima and he asked me to create this flyer for his first film, Bush Mama. Haile went on to write and direct the iconic film Sankofa, about the slave trade based in Ghana.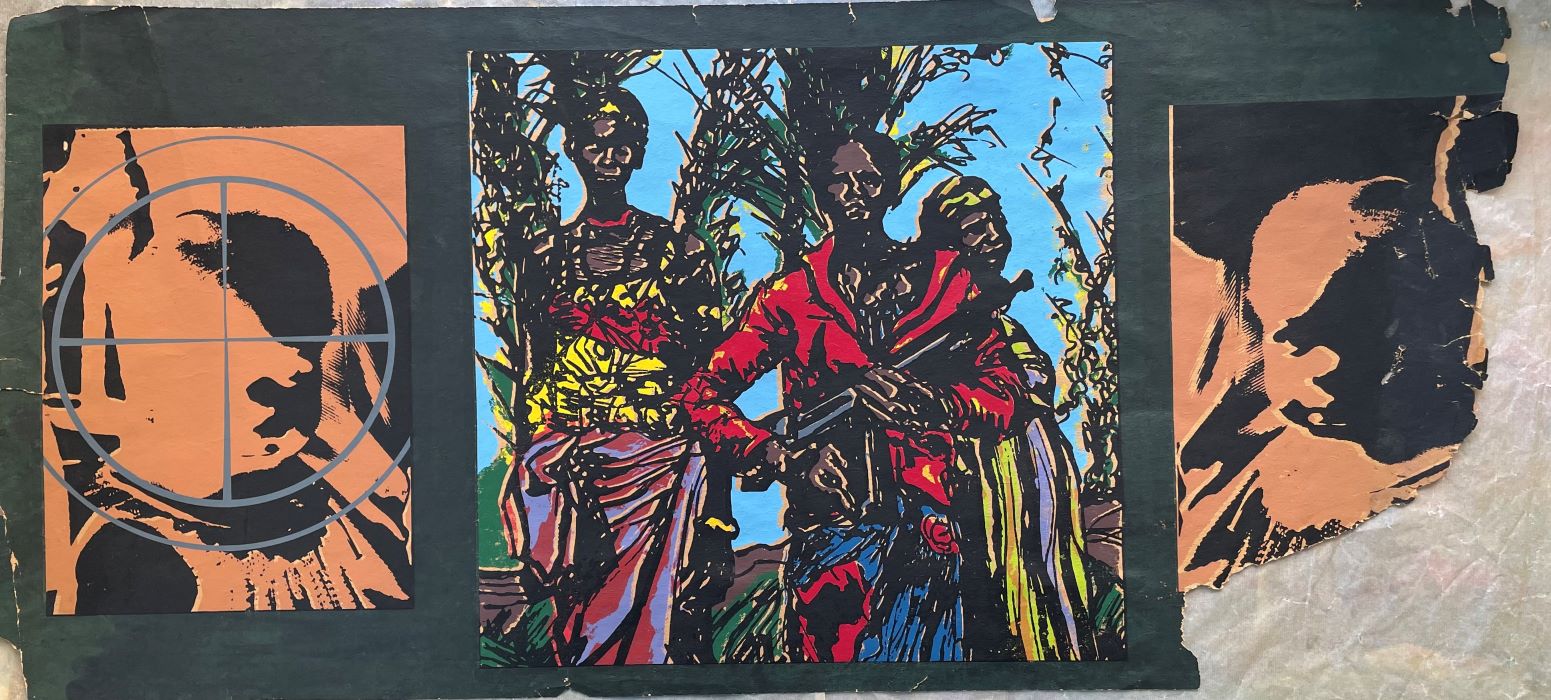 The Struggle Continues
The is my second silkscreen. I went from 4-colors to 12 and screened an image from a 2″ x 2″ rapidiograph drawing on acetate. It was quite an experience! This piece shows a negative image of a child with a bulls-eye on her, women warriors ready for battle and then a positive image of the same child. It reflects the unfair burden upon women and children who too often bear the brunt of war.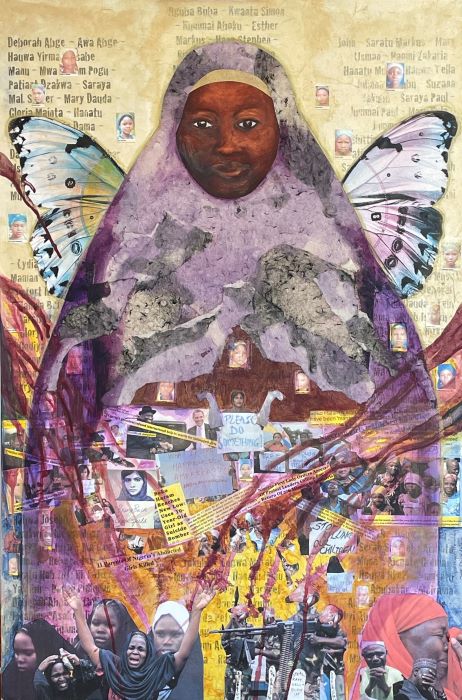 She Who Watches Over Those Still Missing
I created this mixed media piece in response to the nearly 300 Nigerian school girls who were kidnapped in 2014 by a terrorist group called Boko Haram. It seemed that the world's public outrage was lacking and that not enough was being done to rescue these young black girls. One couldn't help but wonder what the response would have been if the girls had been white.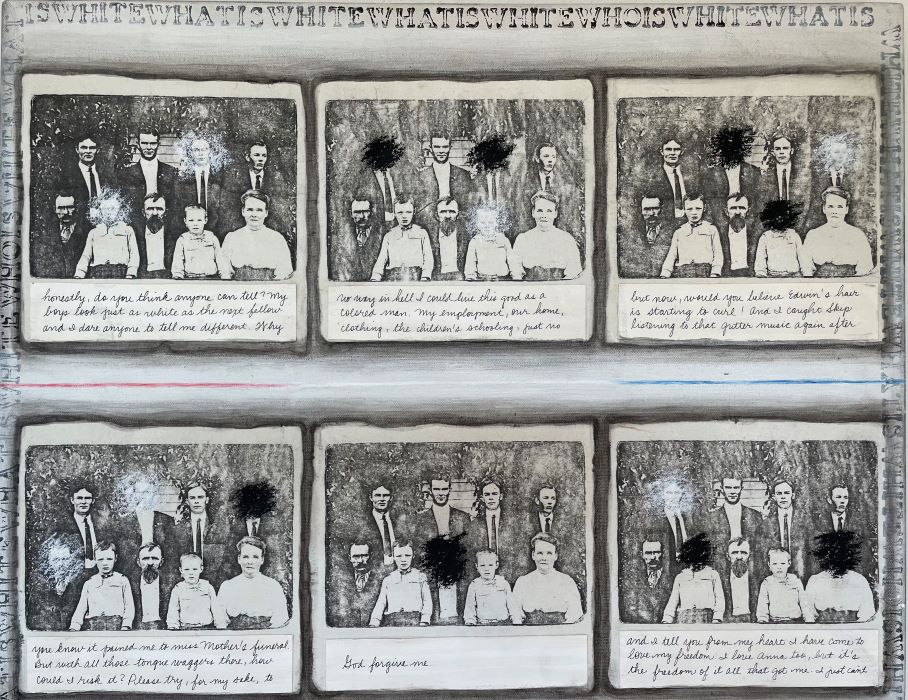 What Is White?
 My mother comes from a long line of "free colored people", descended from European Americans made wealthy by stealing Indigenous lands and forcing free labor upon enslaved Africans. These men frequently raped their captives resulting in a large population of "colored" people who looked more European than African in their appearance. Many passed for white, seeking an easier life with more opportunities. My mother's brother was one such person. I remembered my uncle playing with me, swinging me through the air and then he was gone. One of my healing cards represents this self-disappearance: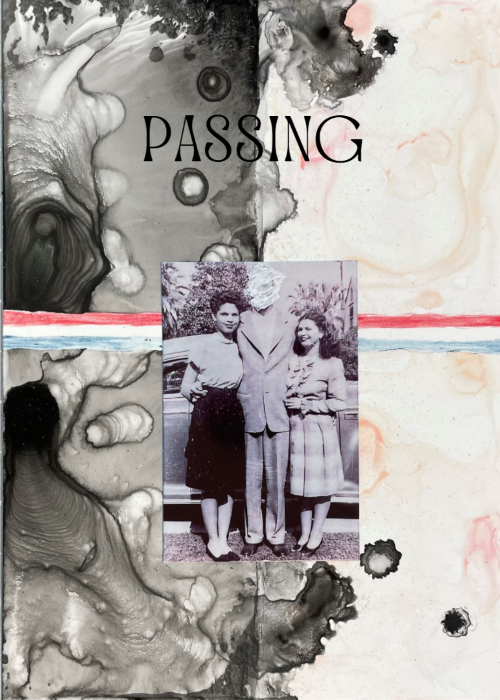 PASSING
This is one of my Ancestor Wisdom Healing Cards. The message is to embrace ALL of who you are.
Chain Migration
It's all about one's perspective, isn't it?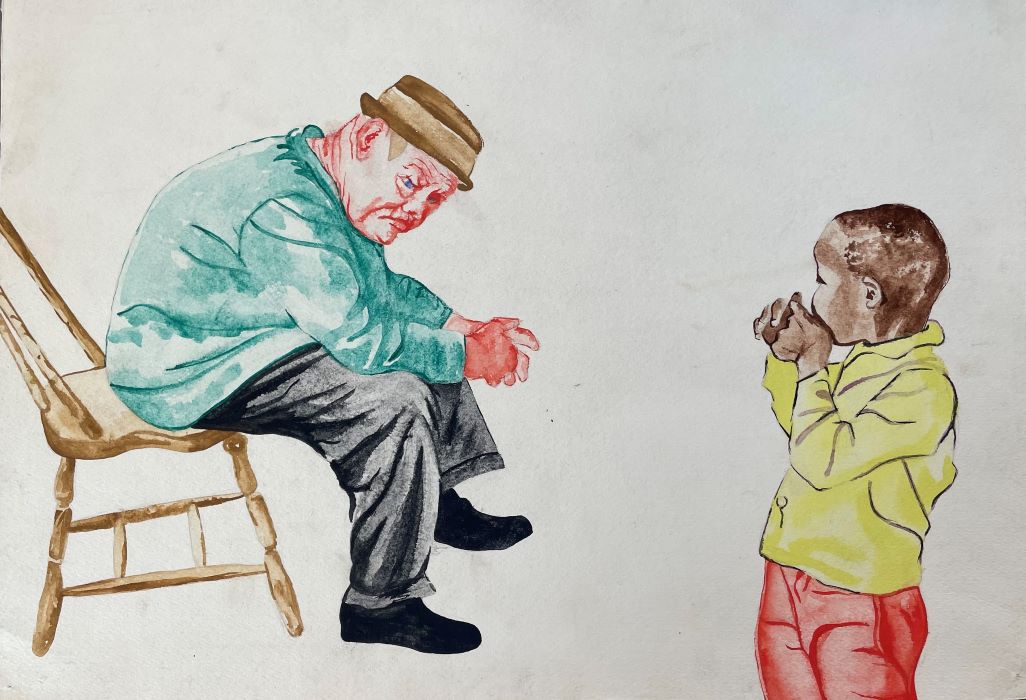 Untitled
It's all in their expressions.