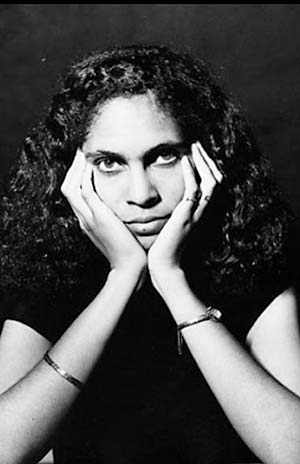 Paula, as a serious young artist in the 80's.
Paula Price deJoie was born and raised in the Crenshaw district of Los Angeles and moved to her father's hometown of Berkeley to attend Cal where she studied Fine Art and Law. Growing up, Paula was blessed to be exposed to a variety of artists from Charles White to Elizabeth Catlett to Nigeria's Twin Seven Seven and to many other prominent black artists who exhibited in the historic Brockman Gallery run by brothers Alonzo Davis and Dale Davis.
Both of her parents created art on the side at home, so she always felt that being an artist was a real and valued career option. As a student in the UC Berkeley Art Department in the 70's, all of Paula's professors were white and male. They loved her abstracts and figure drawings, however when she painted political subject matter, they didn't quite know how to respond. When David Bradford created the Black Art Department and Malaquias Montoya headed up the Chicano Art Center in two redwood shingled buildings off campus, the energy there was welcoming and invigorating, and Paula felt free to express whatever was inside her. Paula recently completed training with Musea in Sonoma, CA to guide healing art circles and she is focused on providing Elders with Sacred Spaces in which to tell their stories and share their wisdom with pen and brush.
Jemima Haiku (detail)
Coming of age in Berkeley during the turbulent 70's, Paula was involved in many civil rights efforts. However, the most important revolution may have been her own personal emancipation…from other people's ideas of who they thought she should be.
"Jemima Haiku represents my reclamation of myself for myself."
Jemima Haiku
Don't Jemima me
My bandana is pure gold
And I never smile
Don't Jemima me
Your square box cannot contain
My dangerous curves
Don't Jemima me
I will poison your pancakes
Make you eat the truth
Don't Jemima me
You do not know me that well
And God is watching
Don't Jemima me
With your timeworn recipes
I'll make my own Me.

For information regarding purchase or rental of Paula deJoie's art, please contact the artist directly.